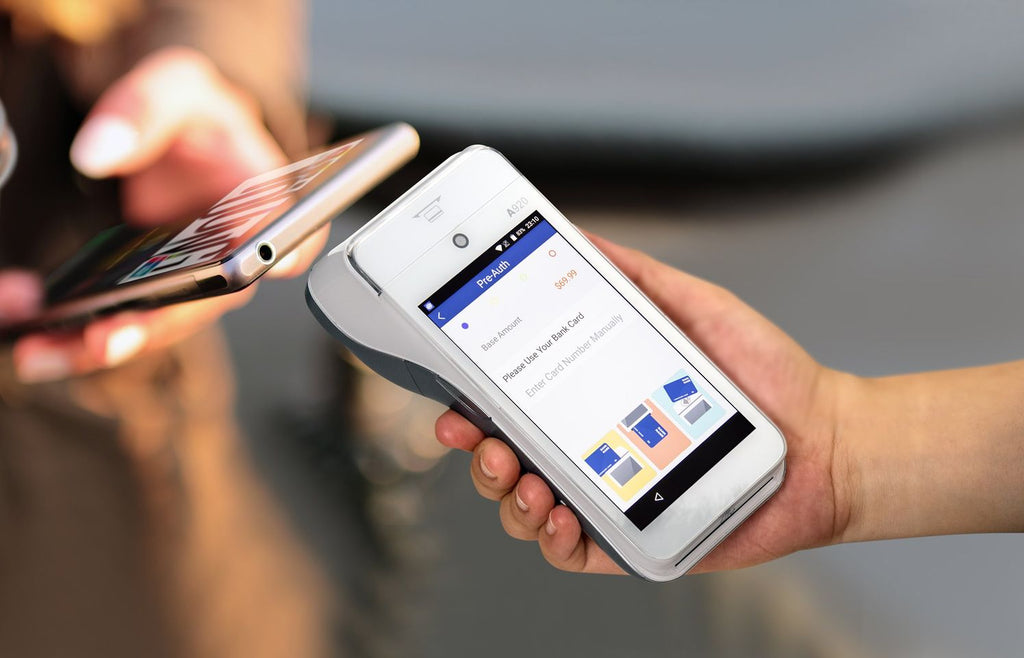 PAX Technology Inc. is one of the largest electronic payment solution providers in the world, with over 60 million terminals being used today. Their mission is to create a complete device platform, using the newest, most robust hardware and advanced device management with seamless integrated support. They are a true global player, being present and selling solutions and services to over 120 countries and regions. PAX offers a wide variety of POS solutions starting with SMART Android based devices, mobile and mPOS devices, as well as PIN pads and countertop solutions.
PAX A920/A920 Pro
Of their most versatile and revolutionary devices, the new A920 and A920 Pro are top of the line. They come outfitted with large touchscreens, measuring at 5" and 5.5" for the A920 and A920 Pro respectively. With the Android system powered by PAXBiz, the terminals are incredibly easy to use and they are PCI PTS 5.X compliant, making them the most secure payment devices out there. They accept any payment method including contactless payments, PIN on glass, and chip and magstripe methods. The A920s come standard with thermal printers, Bluetooth and WiFi connectivity, a high-capacity battery, and even an integrated camera for scanning payment cards. The terminals are small, sleek, and portable, allowing you to make transactions anywhere on the go. The major difference between the base model and the Pro is that the Pro comes with a slightly larger screen and offers higher processing speeds to make transactions quick and easy.
Powered by Android 8.1 and Cortex A53 processor
5.5" capacitive touchscreen
4G + WiFi + Bluetooth
Contactless + chip & PIN + magstripe + PIN on Glass
5MP rear camera & Professional scanner
5150mAh / 3V battery
PCI PTS 5.x SRED
(Click here for the A920, or Click here for the A920 Pro)
PAX S920
For those looking for a cheaper mobile solution, the PAX S920 is a great place to start. The S920 is a pocket-sized POS device that comes with a numpad and a touchscreen large enough to make use of the simple user interface. It accepts a wide variety of payments including contactless and NFC payments, all while being PCI compliant. The main draw of this device is the portability and ease of use for merchants and customers alike.
PAX S300
Finally, if you need a countertop POS device, the S300 is a high performance solution for multilane merchants who need high levels of transactional security. The S300 comes with a touchscreen and numpad, and it accepts many various payment methods such as contactless, e-Signature, magnetic stripe, and EMV chip. With USB and LAN connectivity options, the S300 offers everything merchants could want in a sleek, stylish payment device.
Key Features:

Chip & PIN, Magstripe, Contactless

Loudspeaker & Large color touch screen display

PCI PTS 3.x, SRED

EMV L1 & L2 EMV Contactless L1 Certified

Large Memory Capacity

User-friendly Interface with Powerful GUI