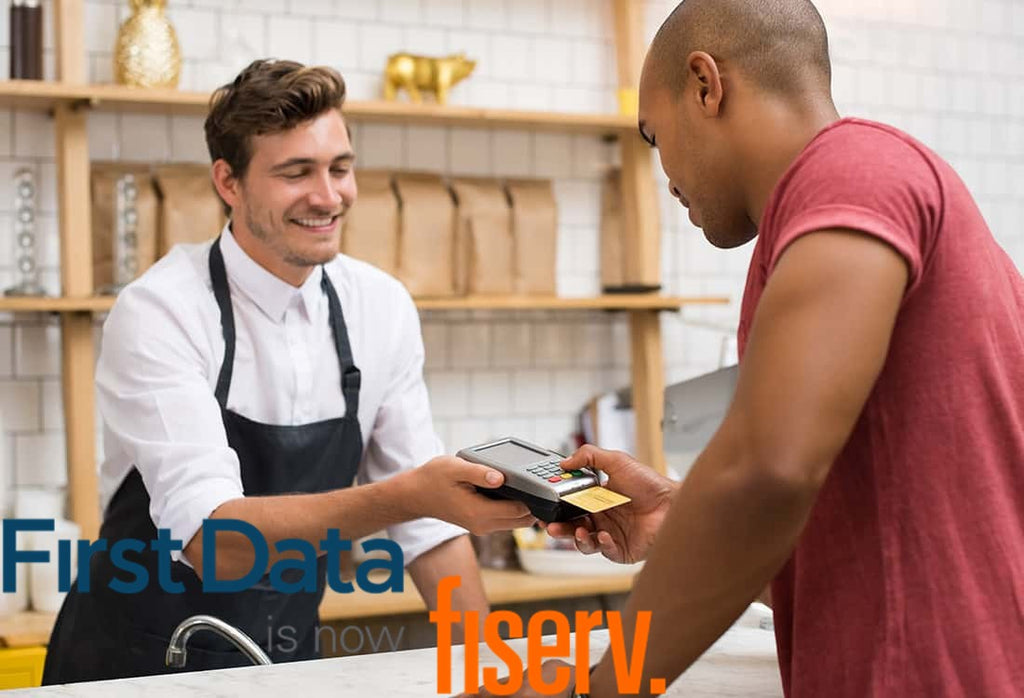 First Data, now owned by Fiserv, is the largest merchant account provider in the payment industry and one of the largest financial services in the world. They are a global leader in financial tech, being first in global issuer processing, global merchant acquiring, and US account processing. Every second, First Data processes more than 10,000 transactions at a time.
One of the keys to First Data's success has been their incredibly durable and versatile hardware. For years, their FD150 terminal and RP10 PIN pad have been a staple choice in the POS world. Find out below why both are so widely used and the regular choice for merchants around the world.
FD150
First Data's FD150 is their latest and most affordable terminal solution, combining performance, reliability, and ease of use in a compact, feature-rich device. The FD150 is the latest in its line replacing its predecessor the FD130. It offers faster processing and expanded memory over its FD130 counterpart and is now PCI-PED Version 5.x approved. The FD150 accepts all types of major banks and EMV debit and credit cards as well as checks, mobile wallet payments, and EBT transactions. The FD150 comes with Dynamic Currency Conversion, allowing international customers to pay with foreign currency, and it also supports multi-merchant processing, which lets business owners process payments for more than one merchant using a single terminal. It is outfitted with an intuitive touch screen, a compact printer, three USB ports, and a standard numpad. The FD150 has the ability to use IP, dial-up, or Wi-Fi to connect to networks and it can work independently without an additional PIN pad.
Accepts PIN-secured and signature debit cards, all major credit cards, STAR network transactions, gift and EBT cards

Accepts chip-and-PIN-enabled cards, magnetic stripe cards, contactless cards, mobile phone payments, and key fobs

PCI-PED 5.x approved device

Display: 2.7" 320 x 240 Touch Screen

Printer: Thermal Printer (18lps), Paper Roll Diameter: 48mm, can print 15 lines per second

Dimensions: 206mm x 90mm x 83mm

Connectivity: Dial up modem, Ethernet, 2.4 GHz, Wi-Fi

Durable Keys

Three-track magnetic-stripe reader

Three USB ports
(To purchase an FD150, click here)
RP10
The RP10 is a perfect PIN pad for merchants who handle a high volume of small-ticket transactions. It can be connected to any First Data terminal, including the FD150, via USB connectivity and does not require a separate power supply. The RP10 is PCI compliant and accepts all major credit cards, chip and PIN enabled debit cards, EBT transactions, magnetic stripe cards, contactless cards, mobile phone payments, and key fobs. The RP10 is a simple solution where cards never have to leave the customer's hands. 
Accepts PIN-secured and signature debit cards, all major credit cards, STAR network transactions, gift and EBT cards

Accepts chip-and-PIN-enabled cards, magnetic stripe cards, contactless cards, mobile phone payments, and key fobs

PCI-PED 5.x approved device
(To purchase an RP10, click here)