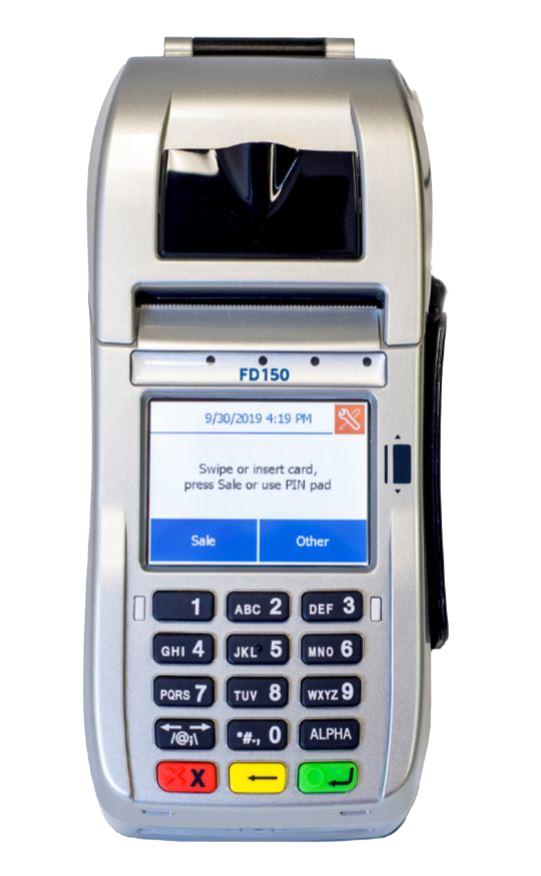 First Data FD150 Terminal Contactless & EMV (US 001867064) *Brand new w/ 1 year warranty*
AMERICA'S TOP SELLER OF FIRST DATA PRODUCTS! 
**LOWEST SALE PRICE!! BRAND NEW and UNLOCKED!Works with any Bank!
**FD150 is the replacement for the FD130 credit card machine.
Need to get it encrypted to take pin number debit? Encryption service only $35!
 Call us at 800-980-0950 and we can help!
Easy-to-use technology

Intuitive touch-screen display for ease of use • Fast terminal downloads using IP or dial-up, with Wi-Fi as an option • Easy support of both IP and dial-up with Secure Sockets Layer (SSL) encryption • Quick and hassle-free drop-in paper-loading system
Features
• Compact design
• Cortex A5 500MHz
• Processing capabilities for ATM, debit, electronic benefits transfer (EBT) transactions and check payments
• Fast printer capable of 18 lines per second
• IP connectivity with dial-up as a backup and Wi-Fi as an additional option
• Durable keys
•  Touch-screen capability with 320 X 240 color display
• Merchant-friendly one-touch feature for daily functions
• Three-track magnetic-stripe reader
• Contactless support
• 128MB RAM standard memory
•  Three USB ports
• Address verification service
• Batch history
• Simplified support and installation
• 2.3-inch-wide thermal roll printer
• Ability to accept EMV chip transactions that enhance security
• PCI-PED Version 5.x approved
*Installation is simple, with easy-to-follow on-screen prompts. Setup takes just a few minutes per terminal. The FD150 terminal accepts PIN-secured and signature debit cards, all major credit cards, contactless payments and gift cards. With the addition of a check reader, it also enables you to accept paper checks,* which can be transmitted in electronic form by opting for the TeleCheck Electronic Check Acceptance® solution.
***Get a Stand for your Terminal:

 The FD150 by Fiserv/First Data is the most used machine for Fiserv/First Data Credit Card Processing. The FD150 includes a Wifi feature and color screen. It is super easy to use and merchant processing is a breeze through this machine. Please call us at 1-800-980-0950 for any questions!
Free Shipping on orders $500 and up!
1 Year Manufacturer Warranty
15 Day Money Back Guarantee