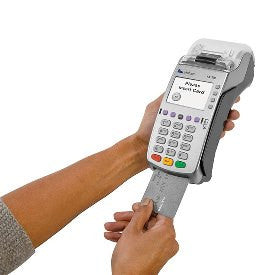 If you're a business owner, then you want to make things as easy as possible for the customer, especially when it comes to how they make their purchases. The customer wants to be able to make their purchase quickly, securely, and with enough options to choose from (cash, credit card, online, etc). If the customer is unable to do so, the business can't function or sustain itself. Part of how a small business owner can and is obliged to facilitate how the customer pays is by choosing the right credit card processing company to handle customer payments. They're all different, and several factors need to be taken into account to decide which processing company is right for your business. Here are some things to keep in mind about each processing company that can clarify what they can (or can't) offer you and your business:
Fees and Costs
A startup business needs to be very wary of sticking to their budget and affording whatever costs the processing company charges. They range from (and aren't excluded to) set-up fees, monthly fees, and termination fees; depending on the processing company, they can add up. Each processing company has their own fees with varying costs; some of them even have hidden fees that you can only find on the fine print. Make sure you do a thorough amount of research before you sign the contract, and here's a site that can even help you compare and contrast your options. -> https://www.crowdreviews.com/best-credit-card-processing-companies
Processing Times
Before processing companies even give out their fees and costs, they look at your sales income, business tenure, credit score, and other data to make sure that your business is legitimate. They may even bring someone in to take pictures of your office, or request copies of your business license and tax returns. Once they have all the information they need, they'll ask for your consent to start setting up the processing software and equipment.
Payment Types
Customers want to have a lot of options on hand so that they can pay for products and services however they like. That's why it's highly recommended that your business offers at least some of the same payment options as the major credit card companies; Visa, MasterCard, American Express, and Discover. You can even allow customers to use gift cards, prepaid cards, and EBT (Electronic Benefit Transfer) to give them even more options for payments.
Customer Support
Business payments can be processed anytime, with an emphasis on international payments that take place well beyond regular U.S business hours. Solid, 24/7 customer support is a must for the processing service you use. Additionally, you should make sure you know the entire process for making a payment, that the customers can contact you for support quickly and easily, and that their questions and concerns are answered as politely and promptly as possible.
Tech Savvy and Security
This must be the defining feature of whichever processing company you choose. You simply can't afford to have a lapse in security and tech knowledge when customer payments and business revenue is on the line. The smallest sign of fraud should be caught and fixed immediately, and the fewer occurrences, the better. This is because businesses must pay a chargeback fee when a fraudulent order is cancelled, and a lot of chargebacks won't go unnoticed by the processing company. This could potentially result in the prevention of the use of cards and electronic payments. Making sure a payment is done securely and successfully is the most important factor to take into consideration for a business and its processing company.    
Be sure to take a reasonable amount of time in learning and understanding how well processing companies do in each of these five categories when choosing between them. The business from your customers deserves the best that a processing company can offer.
Also, keep in mind that CardMachineOutlet.com can help small businesses to save money (between 30% and 40%) on their processing rates and set up their processing equipment. So for whichever processing company you choose for your business, be sure to contact us via e-mail (sales@cardmachineoutlet.com) or phone (1-800-980-0950) so we can help you get even more out of your processing!