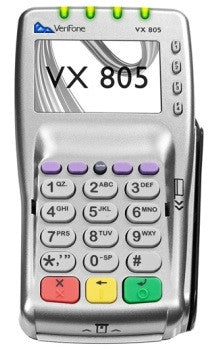 Verifone VX 805 EMV NFC Contactless (M280-703-A3-WWA-3)
Brand New and Unlocked!!
Need to get it encrypted to take pin number debit? Encryption service only $35!
Call us at 1-800-980-0950 and we can help!
Cables Sold Separately-USB and RJ45 options. RJ45 is standard to connect to Vx 520 terminals and USB is to connect to Point of Sale or Computer system.
The Verifone VX 805 PIN pad delivers reliability, usability and next-generation payment capabilities. The VX 805 allows merchants to process a variety of transactions - magstripe, EMV (chip card), and contactless (NFC) - all in one convenient payment device.
Compatible with:
Brand:

Verifone

Model:

VX 805


Part Number:

M280-703-A3-WWA-3

Connectivity:

Cables Sold Separately-USB and RJ45
Magnetic Stripe Reader:

Integrated magnetic stripe reader


EMV Smart Card Reader:

EMV level 1 and 2 compliant

NFC Contactless Reader:

Integrated NFC reader

Display:

1

28x64 LCD, white backlit
Tech Notes: All PIN pads must be injected with your service provider's encryption key before they will work with your terminal/ POS system. Power supply is required if you plan on using the contactless (NFC) option.
What's Included:

Verifone VX 805 (M280-703-A3-WWA-3) PIN pad
One year manufacturer warranty
Free Shipping on orders $500 and up!
1 Year Manufacturer Warranty
15 Day Money Back Guarantee