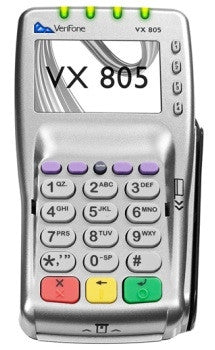 Verifone VX 805 EMV NFC Global Bay (M280-703-A3-GBM-3)
**All pin-pads must be physically injected with a security key to function. This can be done by your Processor or Click Here for Injection Services Offered by Card Machine Outlet.**
The Verifone VX 805 PIN pad delivers reliability, usability and next-generation payment capabilities. The VX 805 allows merchants to process a variety of transactions - magstripe, EMV (chip card), and contactless (NFC) - all in one convenient payment device.
Compatible with:

Full Verifone VX 805 Product Details
Brand:

Verifone

Model:

VX 805


Part Number:

M280-703-A3-GBM-3

Connectivity:

RS232/ USB, cable sold separately

Magnetic Stripe Reader:

Integrated magnetic stripe reader


EMV Smart Card Reader:

EMV level 1 and 2 compliant

NFC Contactless Reader:

Integrated NFC reader

Display:

1

28x64 LCD, white backlit
Tech Notes: All PIN pads must be injected with your service provider's encryption key before they will work with your terminal/ POS system. Power supply is required if you plan on using the contactless (NFC) option.
What's Included:

Verifone VX 805 (M280-703-A3-WWA-3) PIN pad
One year manufacturer warranty
GET A STAND FOR YOUR UNIT
Free Shipping on orders $500 and up!
1 Year Manufacturer Warranty
15 Day Money Back Guarantee