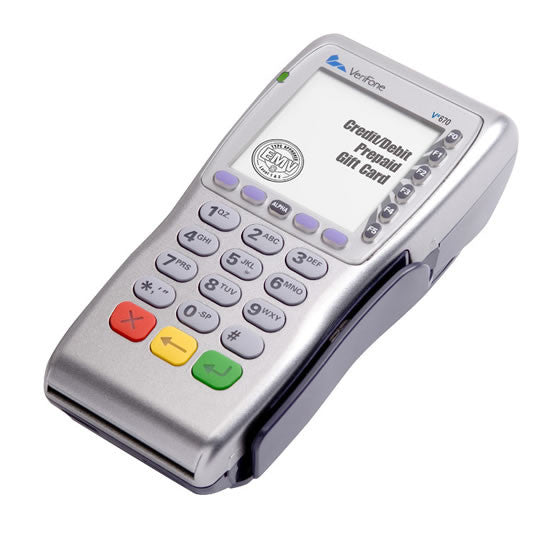 Verifone Vx 670 GPRS EMV 6Mb (M267-032-11-USA)
Vx 670 is a radical revolution at hand! With PCI PED approval, this is the smallest all-in-one handheld payment device that is specifically for wireless, customer-facing payment. Verifone's patent-pending MAXui design provides the largest user interface for an all-in-one payment system with a large, white backlit display and large blue backlit keys.
Need to get it encrypted to take pin number debit? Encryption service only $35!
Full Verifone Vx 670 GPRS Product Details
Brand:

Verifone

Model:

Vx 670

Part Number:

M267-032-11-USA
Processor:


32-bit ARM9 microprocessor

Memory:

6MB (4MB Flash/ 2MB RAM)

Modem:

None

Ethernet Port:

Supports Local Area Wireless

Wi-Fi 802.11g; WPA encryption 2.4 Ghz

EMV Smart Card Reader:

EMV level 1 & 2 type approved

NFC Contactless Reader:

None

Printer:

Thermal clamshell

Display:

EMV level 1 & 2 type approved

Internal PIN Pad:

PCI PED approved

Additional Ports:

RS-232, External PIN Pad, USB
What's Included:
Verifone Vx 670 GPRS EMV (M267-032-11-USA) wireless credit card terminal
Battery
Power supply (charger)
Roll of paper
Phone cord
One year manufacturer warranty
Free Shipping on orders $500 and up!
1 Year Manufacturer Warranty
15 Day Money Back Guarantee