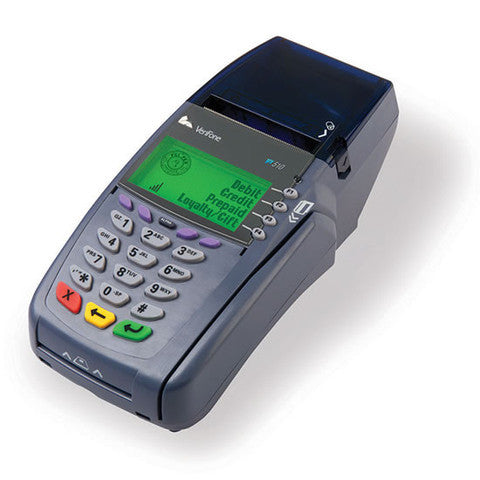 Verifone Vx 510 GPRS 12Mb (M251-020-34-USA)
The Verifone VX 510 GPRS offers extraordinary performance for payment and value-added applications and it dramatically reduces transaction time to just a few seconds. In addition, the VX510 GPRS requires only a power source; no extra cabling is needed. A recurring revenue model is available via the wireless service.
Full Verifone Vx 510 GPRS Product Details
Brand:

Verifone

Model:

VX 510 GPRS 12 Mb


Part Number:

M251-020-34-USA
Processor:


200 MHz ARM9 32-bit RISC processor

Memory:

12 MB (8 MB of Flash, 4 MB SRAM)

Modem:

Standard 14.4 kbps modem

Ethernet Port:

Supports Wide Area Wireless

Radio Type:

GPRS

EMV Smart Card Reader:

EMV level 1 & 2 type approved

NFC Contactless Reader:

None

Printer:

Thermal clamshell,

24 lines per second

Display:

128 x 64 pixel graphical LCD

Internal PIN Pad:

PCI PED 2.0 approved

Additional Ports:

One RS-232 port, one telco port, and one

USB Host port support communications

and peripherals including PIN pads and

contactless devices
What's Included:
Verifone Vx 510 GPRS 12Mb (M251-020-34-USA) wireless credit card terminal

Power supply (charger)

Roll of paper
Phone cord
One year manufacturer warranty

**No Battery Needed
Free Shipping on orders $500 and up!
1 Year Manufacturer Warranty
15 Day Money Back Guarantee