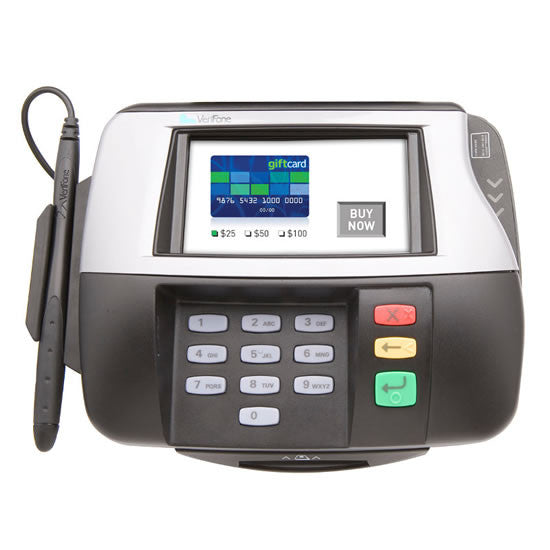 Verifone Mx860, TCH SIG, 128Mb, Ethernet, 2.0, Terminal, PIN Pad (M094-407-01-R)
**All pin-pads must be physically injected with a security key to function. This can be done by your Processor or Click Here for Injection Services Offered by Card Machine Outlet.**
MX 860 combines a fast processor and ample memory to deliver a powerful solution that's designed for high-volume lanes. Its 480x272 wide-screen color display features full-motion video for promotions and digital signage applications and promotes revenue generation and high-value services such as gift card purchase or reload, price checker, product locator, loyalty program enrollment, contracts or instant credit applications.
Mx 860 Accessories:
MX8XX Contactless Module GEN 3 (P090-913-01-R)
Verifone Mx 860 Blue Cable (23741-02-R)
Verifone Mx 860 Green Cable (23740-02-R)
Verifone Power Supply Mx 830 / Mx 850/ Mx 860 (CPS11212D-1B-R)
Multiport Y-cable (Ethernet + power) for MX8xx series (26928-02-R)
2" Swivel Stand, for MX8xx (225-7580-04)
Low Profile Swivel Stand for the MX8xx series (225-7581-04)
Free Shipping on orders $500 and up!
1 Year Manufacturer Warranty
15 Day Money Back Guarantee