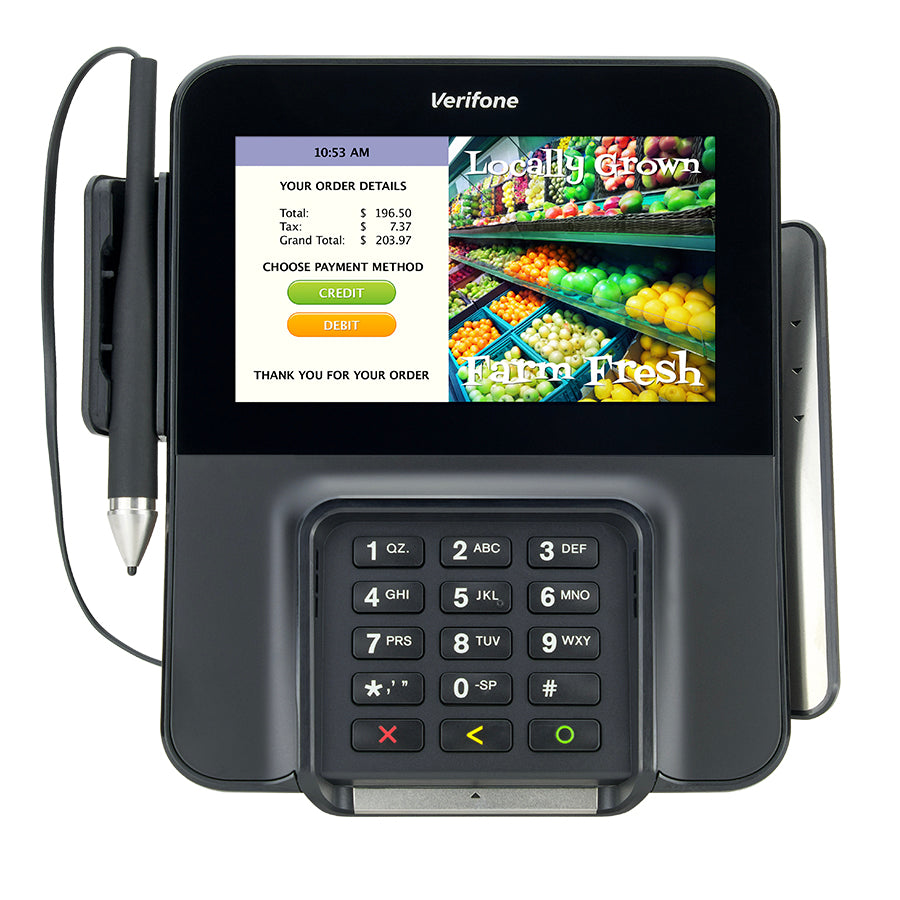 Verifone M400 M445-403-01-WWA-5 | Ethernet
The Verifone M400 is a versatile credit card terminal that features a stunning 5" FWVGA display and multi-use, scrolling split screen. The power of Verifone Connect allows merchants to customize this terminal with interactive apps that drive brand preference and build customer loyalty. The M400 operates on an open, Linux-based architecture with a modern framework and operating system. This model comes with optional BLE/beaconing capabilities.
MODEL NUMBER: 
Verifone M400
PART NUMBER: 
M445-403-01-NAA-4
MANUFACTURED BY: 
Verifone
This model connects via Ethernet connectivity. To see other connection types check below:
Product Specifications
Memory:
 1GB (512 Flash, 512 MB RAM) microSD
Display:
 5" FWVGA (854 × 480), capacitive multi- touch screen, Corning® Gorilla® Glass technology
Card Readers:
 Triple track MSR: ISO 7810, 7811, 7813; smart card reader: EMVCo-approved
Connectivity:
 Ethernet; optional 5 GHz + 2.4 GHz WiFi; optional Bluetooth 4.2 BLE; single cable out with modular design: USB, serial RS-232, IBM tailgate; compatible with MX cabling; front-facing, easily accessible audio jack
Security:
 PCI PTS 5.X-approved
Physical:
 175 mm L × 155 mm W × 43 mm H
Free Shipping on orders $500 and up!
1 Year Manufacturer Warranty
15 Day Money Back Guarantee