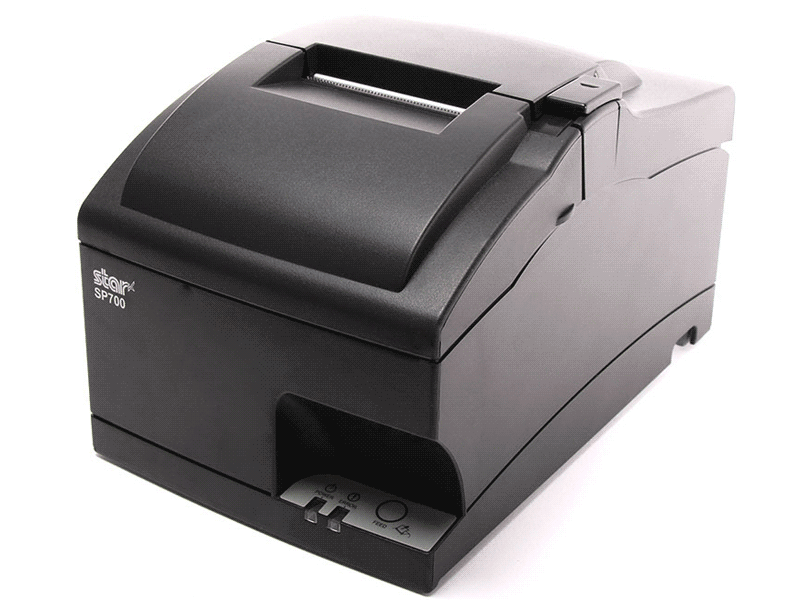 Star micronics SP742ML Receipt Printer, Grey (39336530)
Specs at a Glance
Internal Power Supply

High Speed Throughput: 13 Receipts per Minute

Available with Apple MFi Certified Bluetooth

"Plug & Play" USB Drivers

"Drop-In & Print" Paper Loading

All Accessories Included (Except Cable)

Installation with Full Driver Suite Included

Available with WebPRNT Browser App
Printer Description
Built specifically to work in environments where heat and humidity can erode the type on the kitchen order, the SP700 is an ideal solution. This fast, two-color printer offers crisp, easy to read type for quick viewing, clamshell design for easy paper loading and an embedded power supply for space efficiency.
When equipped with Star's WebPRNT technology, the SP700 WebPRNT can support restaurants using a web-based application to provide a seamless transition from front of house to back of house operation.
Also available with Apple MFi certified Bluetooth interface, Star's SP700 BTi can support kitchens and back of house operations without wiring that can get in the way of its staff. The SP700 BTi supports all iDevices including iPad®, iPhone® and iPod Touch® in addition to Android and Windows devices.
In addition, SP700 BTi includes the ability to print receipts or data from a web browser-based application running on a mobile device wirelessly by configuring Star's 
WebPRNT Browser
. Once configured, the user simply pairs their mobile device to the SP700 BTi, open the application on 
WebPRNT Browser
 and prints from the application.
The SP700 is designed to make installation, utilization and maintenance as easy as possible for any user. The SP700 is ready to be used right "out-of-the-box." A CD with WHQL XP®, 2K®, Vista® drivers, Linux and Mac® OSX drivers and documentation is included with the printer, making it ready for operation immediately after purchase.
SPECIFICATIONS – SP700

Printer Method

9 Pin Serial Impact Dot Matrix

Print Speed

13 Receipts Per Minute (4.7 Lines Per Second at 42 Columns)

Printer Case Color

Putty or Gray

Models Available

Tear Bar or Auto Cutter Without Rewinder
Tear Bar or Auto Cutter With Rewinder

Two Color Print Capability

Red & Black Ribbon Required – RC700BR

No. of Columns

42 / 35

Print Font

Font Size
Character Size
Character Set
Code Pages
Character Per Inch (CPI)



5 x 9 / 7 x 9
1.2 (W) x 2.42 (H) / 1.5 (W) x 2.42 (H) mm
95 Alphanumeric, 32 International
40
16.9 / 14.1

Line Spacing

1/6 inch Standard

Paper Specifications
Width

Roll Diameter
Thickness 1 Ply Paper
Copy Capability 2 Ply
Copy Capability 3 Ply
Easy-Load
Paper Out Sensor
Paper Low Sensor
Print Width


76mm standard, Adjustable 69.5mm or 58mm with paper guide

Up to 85mm
0.065 ~ 0.085 mm
Original + 1, 0.05-0.08 / piece, total less 0.14
Original + 2, 0.05-0.08 / piece, total less 0.20
"Drop-In & Print"
Standard
Optional
63mm, 57mm, 45mm

Ribbon Specifications

RC700B
RC700BR
RC700D



Black (3,000,000 Characters)
Black/Red (1,500,000 / 750,000 Characters)
Indelible Black Ribbon (Laundry Applications)

Auto Cutter

Guillotine (Partial Cut Only)

Cover Open Sensor

Yes

Program ROM

Flash Memory (16 Mbit), NV bit image 256 KB

Multiple Copy Support

Original + 2 Copies Maximum

Journal Capability

Yes; Rewinder model required

Label Support

N/A

Power Supply

Internal; Power cable included in box

Drivers Available

Windows 8.1, Windows® XP 32 Bit, Vista 32/64 Bit, Windows 7 32/64 Bit, Server 2008 32/64 Bit, XP Embedded, POSReady 2009, OPOS™, JavaPOS™, USB Vendor Class, Linux™, Mac OS X, StarIO SDK with support for iOS, Android and Blackberry

Digitally Signed (WHQL)

Yes

Swappable Interfaces

Yes

Connectivity

Apple MFi Certified Bluetooth, WebPRNT, WebPRNT Browser App, Serial, Parallel, USB, Ethernet

Emulation Modes

Star Mode, ESC/POS™

Peripheral Drive Circuit  

2 Drivers

Power Consumption 

Average 36W. Printing, 10W. Standby

Operating Conditions

Temperature: 0ºC to 50ºC 
Humidity: 0% - 90% RH (without condensation)

Storage Conditions

Temperature: -20ºC to 70ºC 
Humidity: 5% - 95% RH

Dimensions
Non-Rewinder Models
Rewinder Models

Weight:
Tear Bar Model
Auto Cutter Model
Tear Bar Rewinder Model
Auto Cutter Rewinder Model


160 x 152 x 245 (w x h x d)mm
164 x 152 x 245 (w x h x d)mm


2.96 kg
3.18 kg
3.43 kg
3.65 kg

Safety Standards

UL, C-UL, TüV, CB, FCC Class A, VCCI Class A, EN55022, CE

Reliability MCBF
Print Head
Auto Cutter

22 Million Lines
150 Million Characters
1 Million Cuts

Included with Printer

Installation CD with Drivers, Configuration Utility, and Value Add Utility modeled afterfuturePRNT Software, Set Up Guide, Power Cord, Embedded Power Supply, Vertical Mount Accessory, Paper Guide, Power Switch Cover, Start Up Ribbon

Warranty

3 Year Limited Manufacturer Warranty (US and Canada)

Options

Kitchen Buzzer (BU01-24-A)
Wall Mount Bracket (WB-S700)
Vertical Stand Kit (VS-S700)
Near End Paper Sensor
Swappable Interfaces
Swap-A-Star Extended Warranty Program (US)
Extend-A-Star Extended Warranty Program (US and Canada)
Free Shipping on orders $500 and up!
1 Year Manufacturer Warranty
15 Day Money Back Guarantee