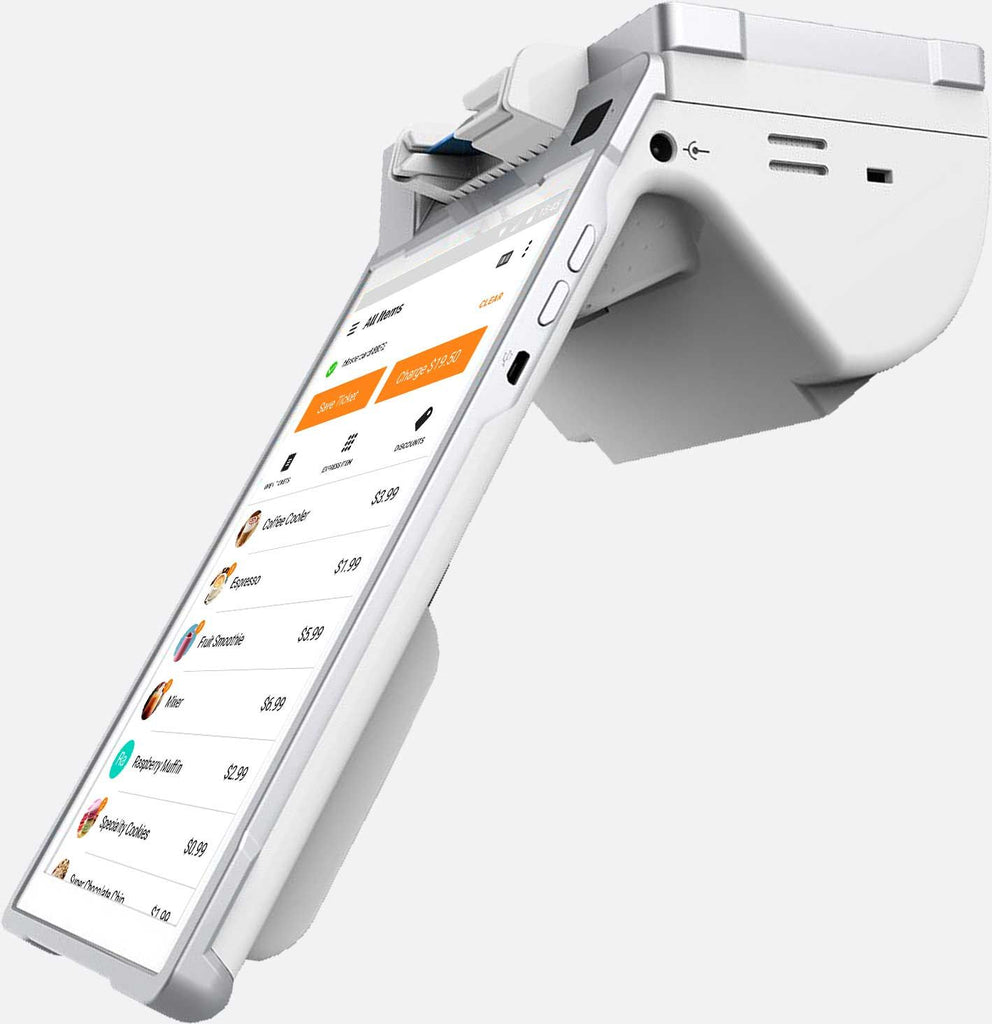 PayAnywhere Smart Flex Complete System
The hybrid terminal and point of sale powered by Payanywhere. Includes 4G and wifi connectivity, an 8" HD touchscreen, 4.3" customer facing touchscreen, receipt printer, and barcode scanner.
EMV chip cards | Magstripe cards | NFC Contactless | PIN debit
A popular figure of speech is "you can't have your cake and eat it, too." Basically, meaning that you can't have the best of both worlds. At Payanywhere, we disagree, which is why we're pleased to introduce the Payanywhere Smart Flex! It's a little bit terminal mixed with a little point of sale, and lets you have your cake and eat it, too. 
The latest offering in Payanywhere's Smart Solution suite is a hardware solution designed to fit either a countertop or mobile business setting. The Payanywhere Smart Flex features:
Merchant and customer facing touchscreens.
Accepts magstripe, EMV chip, and NFC contactless transactions - including Samsung Pay, Apple Pay, and barcode payments like Alipay.
4G, WiFi, and hardwire connectivity.
Built-in camera and receipt printer.
Charging dock and accessory hub.
The perfect combination of smart and powerful, the Payanywhere Smart Flex is fueled by the Payanywhere application. Whether you're a business that needs help scheduling your staff or managing the products you sell, Payanywhere provides you the ability to manage your business from top to bottom.
The Payanywhere Smart Flex is the device that allows you the flexibility to do business where your customers are. As a traditional countertop terminal, the Payanywhere Smart Flex offers a unique and engaging checkout experience for your customers. Then switch to use the Smart Flex as a handheld mobile device that becomes a line busting or table service point of sale. Make sure to check out the Payanywhere Smart Flex introduction video for an overview on all the fantastic features of the newest member of Payanywhere's family. To learn how to get your hands on the Payanywhere Smart Flex, visit our hardware page to get more information.
Free Shipping on orders $500 and up!
1 Year Manufacturer Warranty
15 Day Money Back Guarantee