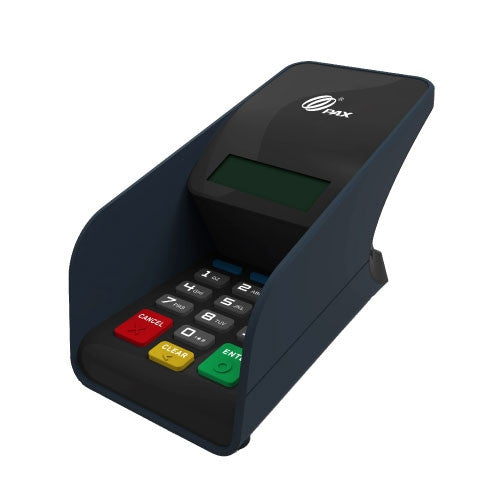 PAX SP20 PIN PAD (SP20-541-1E0) CONTACTLESS V4
PAX's SP20 meets the latest standards for PIN entry, ensuring transaction security. It leads the market for secure PINpads by offering PCI security, ergonomic design and an elegantly integrated privacy shield.
The SP20 is a plug-in compatible replacement PINpad with a variety of connection options to work in any POS system. It's perfect for many different payment environments. The tactile, visual and audio feedback keypad minimizes entry errors and speeds up the payment process.
The SP20 features a large and easy-to-read display, and customers clearly confirm the entered amount for secure transactions.
Need to get it encrypted to take pin number debit? Encryption service only $35!
Model
SP20-5411E0
BProcessor
32bit ARM (Secure CPU)
Display
122 pixel x 32 pixel LCD
White backlit
Keypad
10 numeric key and 6 function keys
privacy shield
Contactless Card Reader (optional)
Built-in, ISO / IEC14443 Type A / B, Mifare
Peripheral Ports
1 x RS232
Security
DUKPT, Master / Session, DES, 3DES
ANSI / ISO9564 format 0, 1, 3
PIN ciphered key algorithm
ANSI X9.9 / X9.19 MAC algorithm
Voltage
+5V (+/-10%) DC, 300mA
Physical
Length: 142mm
Width:76mm
Height: 40mm
Weight
200g
SP20-E00SP20-E00SP20-E00SP20-E00"
Free Shipping on orders $500 and up!
1 Year Manufacturer Warranty
15 Day Money Back Guarantee