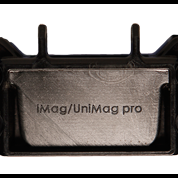 IDTech iMag Pro (30-Pin) / UniMag Pro (3.5mm) Card Reader Insert (400-0002)
***Must select the nCLOSE iMag Pro Spacer with this product if you are using the iMag Pro 30-Pin Card Reader!


nCLOSE Mobile Card Reader Insert designed for the iMag Pro (30-pin) and UniMag Pro (3.5mm).
Free Shipping on orders $500 and up!
1 Year Manufacturer Warranty
15 Day Money Back Guarantee