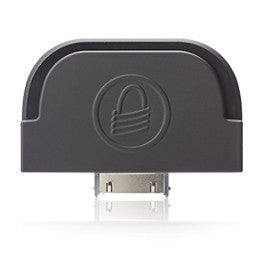 MagTek iDynamo Encrypted Card Reader for 4G iPhone and iPad (21073084)
Specs at a Glance:
Apple 30-PIN
Open standards-based encryption
Immediate card data tokenization
MagnePrint card authentication
Makes "card present" sales easier to accept

Ideal for merchants and mobile users, the iDynamo offers MagneSafe security features combined with the power of iPad, iPhone and iPod Touch products with a 30-PIN interface. This powerful combination assures convenience and cost savings while maximizing card data protection and transaction security from the moment the card is swiped all the way to authorization. No other card reader beats the protection offered by a MagneSafe product.
MAGTEK, IDYNAMO, SECURE CARD READER FOR 4G IPHONE AND APPLE IPAD, BLACK (PART #: 21073084)
Free Shipping on orders $500 and up!
1 Year Manufacturer Warranty
15 Day Money Back Guarantee