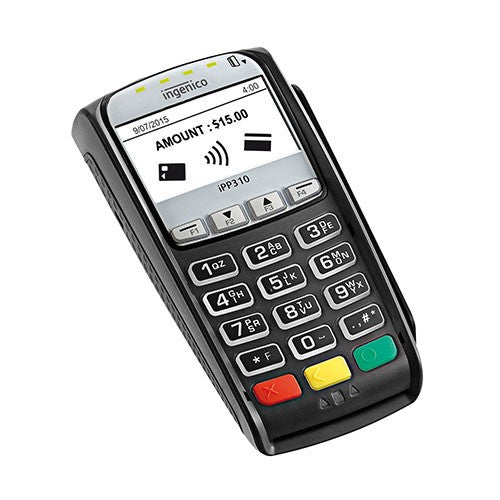 Ingenico Terminals: iPP310 EMV NFC (IPP310-11P2486A)
**All pin-pads must be physically injected with a security key to function. This can be done by your Processor or Click Here for Injection Services Offered by Card Machine Outlet.**
Ingenico iPP310 PIN pad
The iPP310 PIN pad is part of the next-generation delivering security and transaction speed. This high-performance PIN pad delivers merchants with a full range of payment options including contactless capabilities while still offering customers personal PIN entry. Connected to either the iCT220 or iCT250 countertop this large PIN pad provides greater customer visibility allowing merchants the versatility to meet any environment needs. 
Features:
• A large, user-friendly keypad with backlighting
• Contactless/NFC capable
• Ability to add versatility and greater customer visibility when connected to either the iCT220/iCT250 standalone device
• Transaction speed
• Supports a range of valued added applications
Free Shipping on orders $500 and up!
1 Year Manufacturer Warranty
15 Day Money Back Guarantee