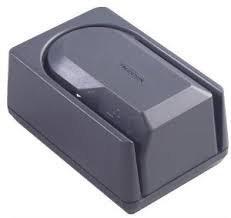 Mini MICR 3800 Check Reader
Mini MICR is a single-feed MICR reader with a reliable and durable design. With a small foot print, Mini MICR is ideal for retail and financial applications where fast and accurate MICR reading is required. Mini MICR offers a range of interfaces options, including connectivity to the most popular POS terminals. - Reads E13-B and CMC-7 MICR fonts - Reads MICR characters on checks, deposit, withdrawal slips and other MICR encoded documents - Small footprint with high accuracy and dependability - Optional 3-track MSR (magnetic stripe Reader) for ISO and AAMVA cards - Interfaces include USB, RS-232 and PC Keyboard Wedge.
Note: This unit comes with a power pack. Order terminal to check reader cables seperately.
Brand new.
Fast shipping.
Factory tested.
Free Shipping on orders $500 and up!
1 Year Manufacturer Warranty
15 Day Money Back Guarantee