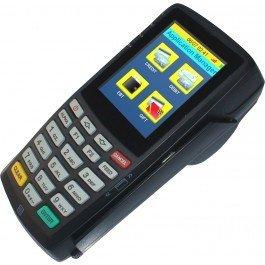 ExaDigm NX2200 CDMA Ethernet Wireless EMV Terminal - New
The new ExaDigm NX Series of Payment Terminals encompasses mobile counter top and PIN Pad, and brings in the latest innovations in payment security, wireless networks and user friendliness, for faster, secure transactions and utmost mobility. Fully compliant to all payment security standards, open to most performing communication networks, packed with powerful features, and backed with unparalleled customer support, the ExaDigm NX2200 takes your business to higher profitability and growth.
Built-in PA-DSS certified security engine for the highest secure payment processing
Ethernet / WiFi / Bluetooth / Dial options, CDMA/1xRTT wireless cellular network
Light weight with Up to 10 hours of operating battery life
High resolution, bright color touch screen
Voice prompt, integrated printer
Free Shipping on orders $500 and up!
1 Year Manufacturer Warranty
15 Day Money Back Guarantee