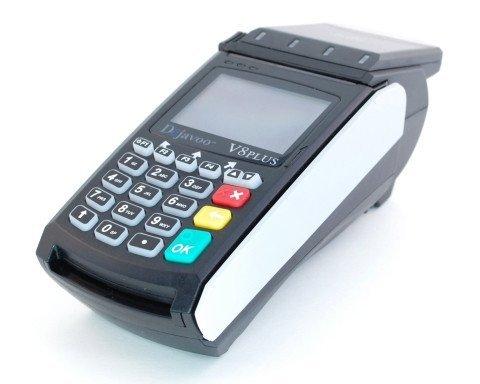 Dejavoo Vega Model V8Plus - Dual Comm plus Integrated Contactless Reader - EMV capable
We Put The Manual INSIDE the Terminal, giving your merchants INSTANT HELP! Ideal Solution For: - Merchants Processing via IP needing a dial back up - Merchants moving towards processing IP in the future Benefits of IP Transactions: - Less than 2 second transactions - Customer's serviced much quicker - Lower Cost - Most merchants have an Internet connection - Simply ASK! - WiFi Option is available with Dejavoo WiFi adapter Downloads and Installations via USB Key in Less Than a Minute Dejavoo terminals can be downloaded via USB key quickly and easily. • Full download in less than a minute! • Email files in the field for "on the fly" updates! • No communication needed for download!! • Mini USB Adapter Included for V Series! • USB Port Included for Magic Line! • Leave Tips for Mulitple Services in ONE TRANSACTION! • Merchants that provide multiple services bundled into one transaction can accommodate separate gratuities for each service. An example of this would be a salon or spa merchant. Gratuities are accommodated and customized in one single transaction for each service and/or server. Dejavoo allows the user to customize and save custom reports at the terminal level. For example, the Merchant can create a report sorted by Purchase Order Number, they use their terminal keypad to give the report a name, such as "PO Report", and save their new custom report to the terminal "Custom Reports" menu to be accessed quickly and easily whenever they need it. Merchants have the information they need, sorted however they choose.
Dial & IP
64 MB Memory
Customized Menu with Up to 20 Programmable Hot Keys
Multiple Merchant with Multiple Host
Secure Internal PIN Pad or External PIN Pad option
Free Shipping on orders $500 and up!
1 Year Manufacturer Warranty
15 Day Money Back Guarantee