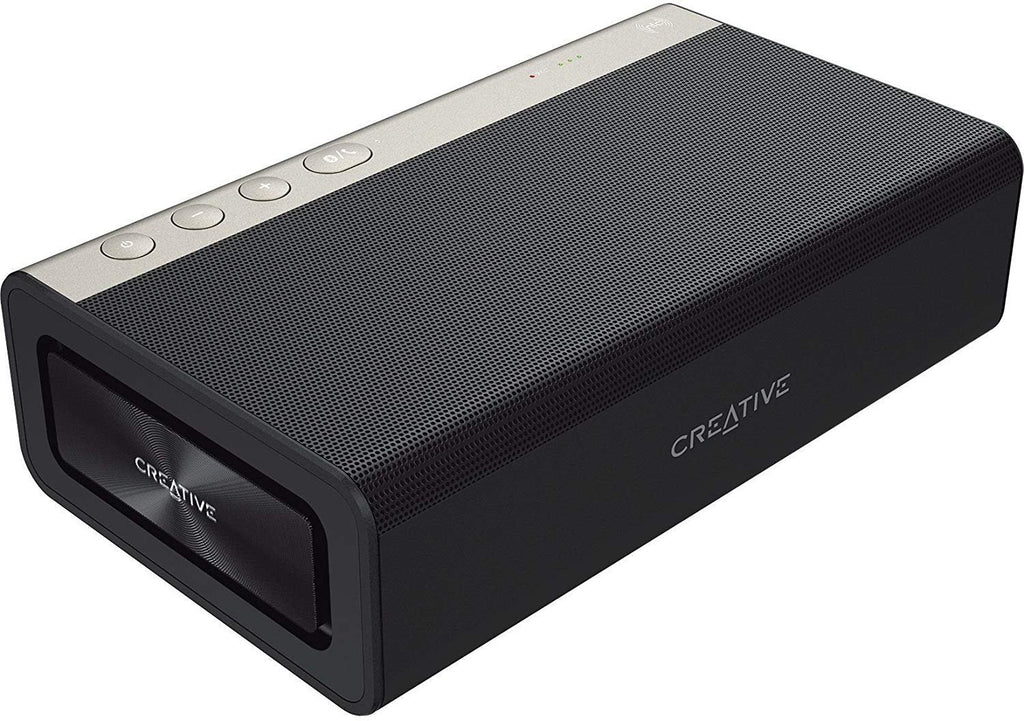 Creative Sound Blaster Roar 2 Portable NFC Bluetooth Speaker with aptX/AAC (Black)
SOUND BLASTER ROAR 2 Smaller. Lighter. Sexier. All of the Classic Sound Blaster Roar's killer audio signature in an even more compact size. Pushing the boundaries of speaker miniaturization even further, the Sound Blaster Roar 2 is 20%* more compact than the Classic Sound Blaster Roar, while still retaining its critically acclaimed killer audio signature; which has garnered a deluge of rave reviews all over the world. The Sound Blaster Roar 2 -- although smaller, lighter, and sexier -- is meticulously designed with the same electrical design, the same 5 high-performance speaker drivers, and the same battery capacity as the Classic Sound Blaster Roar. So what you get is the same mind-shattering room-filling audio and astounding battery life -- but now with a smaller, lighter and sexier form factor. *Based on volumetric measurements
CRITICALLY ACCLAIMED SOUND BLASTER ROAR SOUND SIGNATURE. From the Sound Blaster Roar which garnered more than 1,000 5-star reviews. Powered by 2 amps, astounding audio delivered by 5 drivers -2 high-frequency drivers, a woofer, and 2 passive radiators
SMALLER, LIGHTER, SEXIER & SWEETER. Never has a speaker so small sounded this awesome! The 5-driver system, built-in 6,000 mAh Li-ion battery, and a host of killer features - all tightly packed into a 20% smaller enclosure that sits on your palm.
SPORTS MORE FEATURES THAN OTHER WIRELESS SPEAKERS. A built-in MP3 player, a voice recorder, a speakerphone, a battery bank, and a USB Sound Blaster. With a battery life of 8h that can be charged via the included power adaptor or a micro USB cable
MULTIPLE WAYS TO PLAY YOUR AUDIO. Simply pair your devices wirelessly via Bluetooth or NFC, or via a wired connection from USB or AUX-in. You can even store your songs in a micro SD card and play them directly out of the speaker.
DUAL ORIENTATION MODE. Lay the speaker flat for room-filling and balanced audio or prop it up for louder and more directed audio. Also supports HD wireless audio codecs - apt and AAC that deliver high quality audio for Bluetooth transmission.
Free Shipping on orders $500 and up!
1 Year Manufacturer Warranty
15 Day Money Back Guarantee