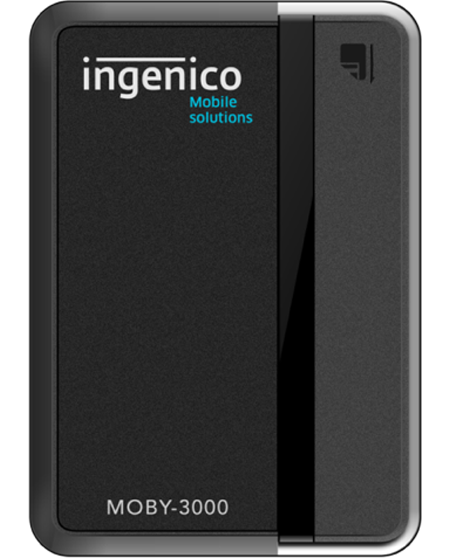 Ingenico Moby 3000 9103 The Bluetooth Enabled EMV mPOS Card Reader (P3N606-09103A)
Empowering everyone with EMV acceptance
The Moby/3000 is a cost-effective solution for small merchants to start accepting EMV payments. Designed to replace inexpensive magstripe-only mPOS card readers, the Moby/3000 offers EMV acceptance at a similar price point.
User-friendly and modern design
The Moby/3000 wirelessly pairs with your smartphone or tablet using Bluetooth 4.0, so an audio jack is not needed. This lightweight, 2.8-oz. device makes it easy to accept payments anywhere you go, and the sleek and modern design provides maximum card-reading performance with a bi-directional card reader and a long guide length.
EMV certified to the Ingenico Mobile Solutions gateway
The Moby/3000 incorporates both an EMV smart card reader (SCR) and a 2-track magnetic stripe reader (MSR) to accept all forms of card-based payments in the U.S. It is EMV L1 & L2 contact certified and certified to the Ingenico Mobile Solutions gateway and mPOS EMV SDK, so you can start accepting chip & sign payments right away.
Developer-Friendly
With industry-leading device compatibility, the Moby/3000 supports 100+ iOS and Android™ mobile devices. Additionally, the developer-friendly SDK works with the complete range of Ingenico Mobile Solutions mPOS card readers, providing a clear and future-proof upgrade path.
Free Shipping on orders $500 and up!
1 Year Manufacturer Warranty
15 Day Money Back Guarantee