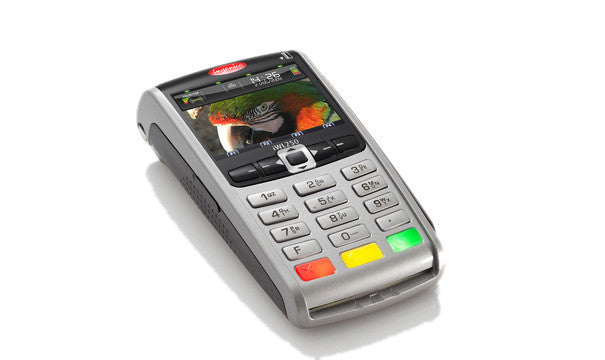 Ingenico iWL250 Bluetooth GPRS with EMV & NFC (iWL250-USSCN01A)
**Ingenico terminals must be pre-programmed with a Baseline in to function. Please check with your processor for the correct baseline. Please call us at 1-800-980-0950 for any questions.**
Need to get it encrypted to take pin number debit? Encryption service only $35!
Ingenico's new pocket-sized iWL250 is compact, easy to use, handle and carry. This includes a full set of payment capabilities, including smart card (chip card), magnetic stripe card, and embedded contactless (NFC) all in your pocket.
Full Ingenico iWL 250Product Details
Brand:

Ingenico

Model:

iWL250


Part Number:

iWL250-USSCN01A or IWL252-01P1635A
Processor:

ARM9 and ARM7


Memory:

160

MB (128MB Flash/ 32MB RAM)

Modem:

None, docking station sold separately

Radio Type:

3G, WiFi, BlueTooth




EMV Smart Card Reader:

EMV level 1 & 2 approved

NFC Contactless Reader:

Integrated NFC reader

Printer:

Thermal clamshell, 30 lines per second

Display:

320x240 TFT-LCD color QVGA

Internal PIN Pad:

PCI PED 3.0 approved

Additional Ports:

USB (2)

Tech Notes: SIM card is required for 3G activation. Docking station may be required for initial software download. Consult your service provider.
What's Included:
Ingenico iWL255 (iWL250-USSCN01A) wireless credit card terminal
Battery
Power supply (charger)
Roll of paper
One year manufacturer warranty
Free Shipping on orders $500 and up!
1 Year Manufacturer Warranty
15 Day Money Back Guarantee