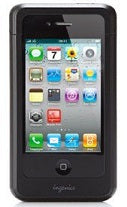 Ingenico ISMP4 Companion PCI 4 Bluetooth & Color IMP627-11P3554A
Ingenico IMP627-11P3554A Terminal, Pairs with iOS, Android, Windows via Bluetooth
NO BARCODE!
Ingenico IMP627-11P3554A iSMP4 Terminal, Pairs with iOS, Android, Windows via Bluetooth, No Barcode Reader
With its innovative casing design, the iSMP is compatible with the iPod Touch 5, enabling merchants to transform either device into a secure mobile payment solution. The MFI-certifed iSMP is 100% compliant with Apple performance and development standards.
Free Shipping on orders $500 and up!
1 Year Manufacturer Warranty
15 Day Money Back Guarantee