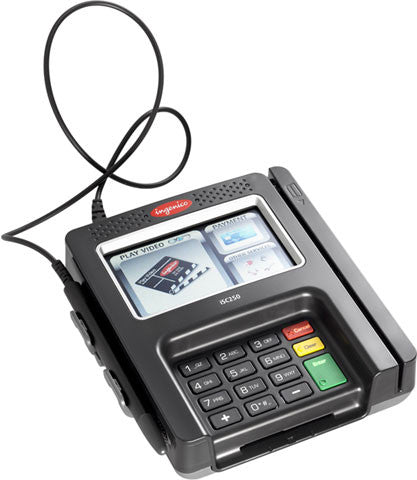 Ingenico iSC 250 EMV NFC Terminal (iSC250-01P2395A)
Need to get it encrypted to take pin number debit? Encryption service only $65!
Ingenico iSC 250 Accessories
Ingenico iSC 250 USB Cable (296111170)
Ingenico iSC 250 Serial Cable (296114928)
Ingenico iSC 250 Ethernet Cable (296114829AB)
Ingenico iSC 250 Power Supply (179901469)
Ingenico iSC 250 Stylus Pen (296162309)
Swivel and Tilt Stand for the Ingenico ISC250 (SEN350819)
Multi Lane Encryption and Application Load Service
A compact payment powerhouse, making a large impact at the point of sale
Interact with your customers in ways that were never before possible with our sleek new iSC Touch 250 – the fast, secure PCI PTS V4.0 approved payment solution that energizes your brand and loyalty-building programs. Combining signature capture and touchscreen technologies in a robust, compact design, the iSC Touch 250 showcases a full range of revenue producing promotions – ads, videos, couponing, targeted up-selling and cross-selling opportunities, gift card sales, extended warranties, digital signage and more – on a colorful, interactive, high-resolution touchscreen display that engages and involves your customer throughout the payment process. For multilane retail checkout, sales kiosks and self-service environments, the iSC Touch 250 is the most reliable, flexible and interactive payment device on the market.
Product Specifications Sheet

Summary of Benefits
Built on the market-leading Telium2 technology platform with a dual processor architecture.
Among the first POS devices available in the U.S. to meet the latest PCI PTS V4 security standards and is SRED V2 approved (in non-contactless mode).
Supports the latest international security algorithms, including DES, TDES, RSA, DUKPT and Master/Session.
Delivers powerful performance in a small, robust package with a bright color easy-to-use display, stereo sound, and backlit keypad for PIN entry protection.
Gives options to accept all forms of payment including MSR, EMV, contactless and mobile NFC.
Comes with payment technologies already embedded with no need to add on component upgrades.
Free Shipping on orders $500 and up!
1 Year Manufacturer Warranty
15 Day Money Back Guarantee