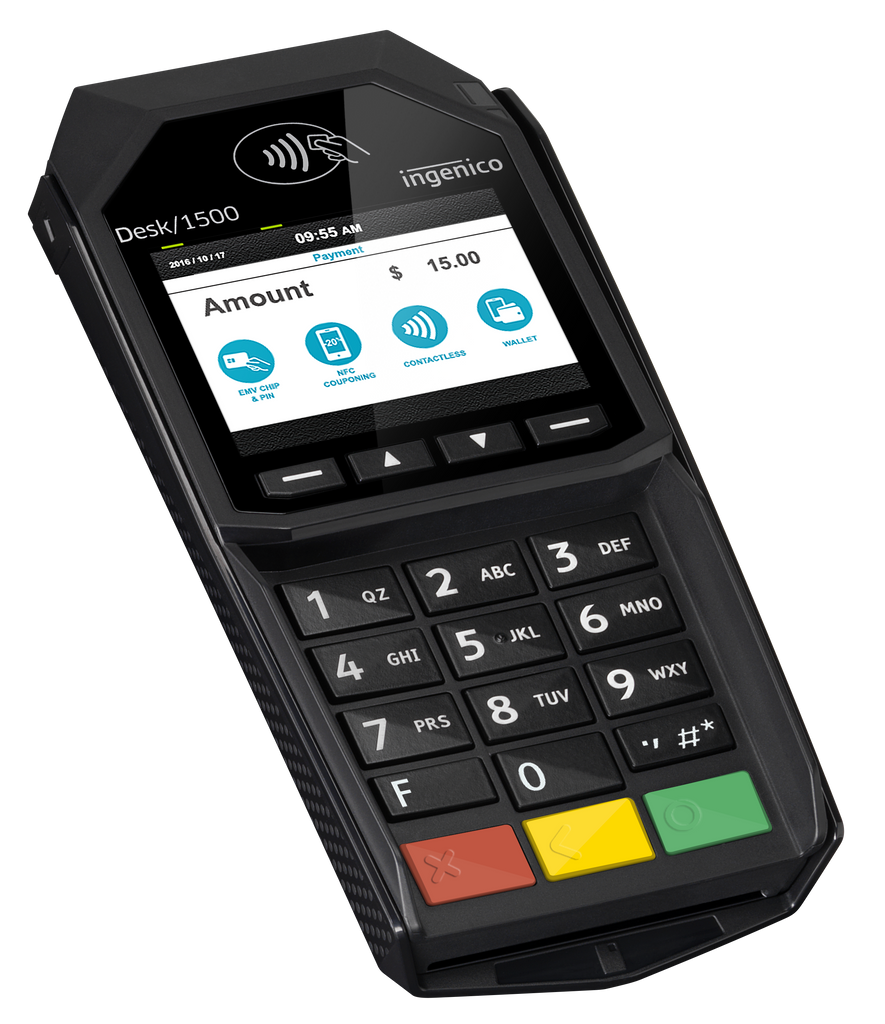 Ingenico Desk/1500 Smart PinPad (PPD34311368C)
Interact with customers at the counter with the simplicity of a compact device

Speed up the payment for Desk/series terminals
Manage customer interface for any type of payment
Integrate with any counter space thanks to a compact and nimble design
Optimized checkout time
Payment validation is better when synchronised with the customer and however they want to pay. Equipped with a clear contactless zone, large keypad and an advanced consumer display, the Desk/1500 enhances usability and accelerates the checkout.
Designed for a limited space
The compact Desk/1500 fits easily on any counter, with options for either a mounted or unmounted terminal to suit the available desktop space. To save space, the Desk/1500 can act in place of the larger Desk/5000 terminal.
Highest security
The Desk/1500 is certified and fully compliant with the latest global and local PCI regulations to ensure longterm payment security compliance – protecting data for years to come.
Fast and unified integration
With plug-and-play installation and USB connection, the Desk/1500 connects to any Desk/series device, offering a speedy and unified solution.
Compatible with Ingenico's suite of services
The Desk/1500 works in unison with Ingenico's supporting service platforms, meaning merchants will have access to business services such as estate management, software updates and day-to-day support deliver a hassle-free experience for those using this innovative range.
Desk/1500 - Datasheets
The Desk/1500 is a durable multi-payment acceptance solution designed to enhance customer experience at checkout.
Free Shipping on orders $500 and up!
1 Year Manufacturer Warranty
15 Day Money Back Guarantee