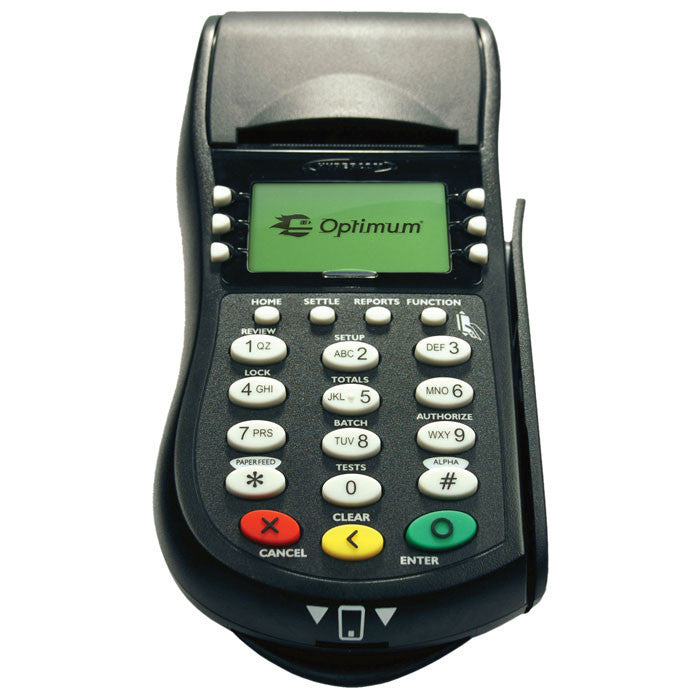 Hypercom Terminals: M4230 EMV GPRS 24Mb (010341-007R)
The Hypercom M4230 EMV from Equinox Payments is a great entry level credit card terminal, and an economical way to meet the new EMV requirements coming in 2015. The T4205 EMV comes with 24MB of memory, an ARM9 processor, an EMV-ready smart card reader (aka chip card reader), and a PCI PED approved internal PIN pad.
Full Hypercom T4205 Dial Product Details
Brand:

Equinox Payments


Model:

M 4230 EMV

Part Number:

010341-007R
Processor:


32-bit ARM9 processor

Memory:

24MB (8MB Flash/ 16MB SD-RAM)

Modem:

None, docking station sold separately

Ethernet Port:


Radio Type:

None

GPRS

EMV Smart Card Reader:

EMV level 1 and 2 compliant


NFC Contactless Reader:

None

Printer:

Thermal clamshell, 10 lines per second

Display:

160 x 80 LCD with graphics

Internal PIN Pad:

PCI PTS approved

Additional Ports:

RS-232, External PIN Pad

Tech Notes: SIM card is required for 3G activation. Docking station may be required for initial software download. Consult your service provider.
What's Included:
Equinox Payments Optimum M4230 (010341-007R) wireless credit card terminal
Power supply (charger)
Roll of paper
Battery
Generic keypad overlay
One year manufacturer warranty
Free Shipping on orders $500 and up!
1 Year Manufacturer Warranty
15 Day Money Back Guarantee