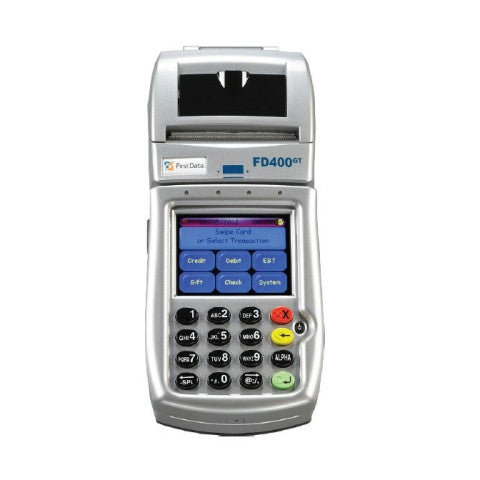 First Data FD 400GT GPRS EMV Terminal (001767064)
The FD400 GT terminal is light and ergonomically shaped for true mobility and flexibility. It utilizes 3G technologies to connect wirelessly over AT&T's GPRS and Sprint's CDMA networks, which means you'll be getting the fastest data transmissions and more coverage area for your business. The multi-application platform supports a full range of payment and value-added services. It provides fast, efficient downloads while meeting MasterCardPOS Terminal Security (PTS) requirements.This terminal communicates off the AT&T GPRS Network.
Features

The FD400Ti Terminal with wireless capabilities allows you to accept virtually any form of payment anywhere, utilizing 3G technologies to connect wirelessly with Sprint CDMA and AT&T GPRS networks. Other features of the device include:

Multi-application platform for all payment services

Meets MasterCard POS Terminal Security requirements

Compact, ergonomic design

Hardware/software support for 3G technologies

Store-and-forward capability to ensure card-present rates in the absence of a signal
Note: This unit comes with a power pack.

What's included:

First Data FD400GT (Complete Unit)

Battery

Charger/Power Pack

1 Roll Paper

1 Year Warranty
First Data FD 400GT GPRS Reviews:

http://www.firstdataterminals.com/first-data-products/first-data-fd400
First Data FD 400GT GPRS Terminal
Free Shipping on orders $500 and up!
1 Year Manufacturer Warranty
15 Day Money Back Guarantee