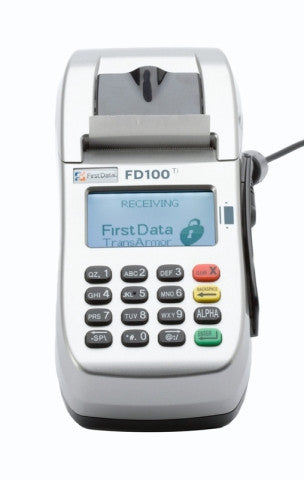 First Data FD 100Ti Terminal (1642020)
The First Data FD100Ti terminal is an affordable, all-in-one terminal solution that combines performance, security, reliability and ease of use into a low-cost, feature-rich device. With the new smaller footprint and sleek titanium design, it delivers high-quality transaction processing and, by using newer technologies, provides a safe, secure Internet protocol (IP)/dial-up platform. Compatible with many standard peripherals, the FD100Ti terminal offers maximum versatility at an affordable price. As one of the fastest, most secure point-of-sale terminals available, the First Data FD100Ti terminal is easily integrated, supports various communication interfaces, and can be adapted to changing environments and circumstances.
Full First Data FD100Ti Product Details
Product Features:
Printer: Integrated, drop-in and accepts 2 1/4" X 85' standard thermal paper.
Security: Secure Sockets Layer (SSL) encryption; MasterCard PTS-certified;
Display: 128 X 32 graphic Liquid Crystal Display
Three-track magnetic stripe reader
Memory: 32Mb of RAM and 128Mb of Flash
Free Shipping on orders $500 and up!
1 Year Manufacturer Warranty
15 Day Money Back Guarantee