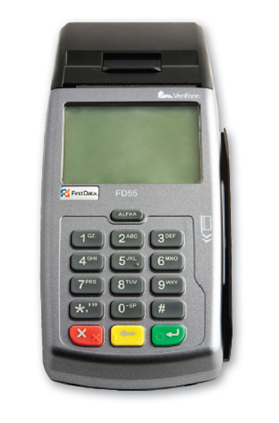 First Data FD 55 Terminal & Printer (FD55)
The First Data FD55 terminal is an economical point-of-sale terminal that enables you to accept virtually every payment option. This space-saving device is compatible with many standard peripheral devices, including the PP1000SE and the PP1000SE with contactless capabilities. With the addition of optional equipment, the FD55 can also accept paper or electronic checks.
Need to get it encrypted to take pin number debit? Encryption service only $35!
Full First Data FD 55 Product Details
Features
Connectivity Ethernet (high speed) with dial-up backup

Sturdy, compact construction (3.6?? wide, 2.9 high, 8.4 long)

Compatibility First Data FD-10 PIN pad, VeriFone PINPad 1000SE and VeriFone PINPad 1000SE with contactless reader

Security Secure Sockets Layer (SSL) encryption; MasterCard PTS-certified; CVV2/CVC2/CID verification for card-not-present situations

LCD display 128 X 64

Thermal Receipt Printer 18 lines per second, virtually jam-free, standard paper

ARM11, 32-bit CPU core, 400 MHz

Three-track magnetic stripe reader

16-button keypad

Memory 128MB Flash/32MB SDRAM

One USB port

Large batch capacity

Dynamic Currency Conversion for merchants serving international customers

Options Electronic commerce indicator, recurring payments for credit
Note: This unit comes with a power pack.

What's included:
First Data FD55 (Complete Unit)

Power Cord

Phone Cord

1 Roll Paper

1 Year Warranty
First Data FD 55 Review
http://www.firstdataterminals.com/first-data-products/first-data-fd55
Free Shipping on orders $500 and up!
1 Year Manufacturer Warranty
15 Day Money Back Guarantee