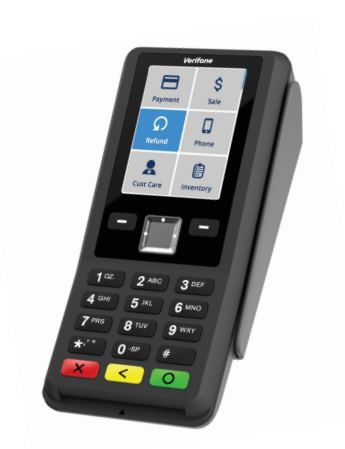 Verifone Engage P200 High-Speed Pin Pad (M430-003-01-NAA-5)
The P200's ergonomic design is ideal for extended use. The elevated EMV slot allows for easier card insertion, the domed keypad provides enhanced usability, and the angled display ensures optimal viewing.
ACCESSORIES
Privacy shield | Mounting adapter | Vast cable options
COMMUNICATIONS
Ethernet | RS-232 | USB client | WiFi (optional) | Bluetooth 4.2 BLE (optional) | USB host
DIMENSIONS
167mm L × 80mm W × 44mm H; 280g weight
DISPLAY
2.8" QVGA (240 × 320) color LCD
MEMORY
384MB (256MB Flash, 128MB SDRAM) | Optional: 1024MB (512MB Flash, 512MB SDRAM)
OPERATING SYSTEM
V/OS (Linux-based)
Free Shipping on orders $500 and up!
1 Year Manufacturer Warranty
15 Day Money Back Guarantee