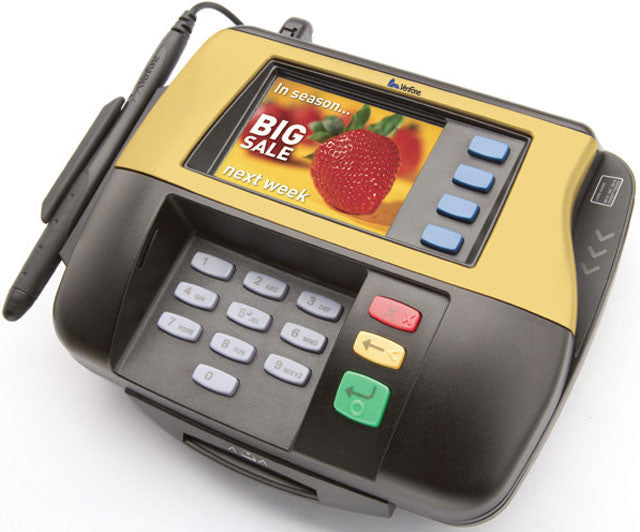 Verifone MX850 EMV - Color Screen Signature Capture Pin Pad (M094-209-01-R)
**All pin-pads must be physically injected with a security key to function. This can be done by your Processor or Click Here for Injection Services Offered by Card Machine Outlet.**
Designed for demanding multi-lane environments, the MX850 has a powerful payment processing engine, a convenient keypad for secure PIN entry, an ultra-crisp color display, and outstanding durability making it the clear choice for retailers. The PCI PED approved MX850 securely handles transactions in seconds, while also delivering a dazzling array of brand reinforcement, cross-promotional messages and even consumer disclosures directly to consumers. With its scratch-resistant touch screen, non-mechanical stylus, customizable trim plate and laser-etched keypad, the MX850 is built to last for years. Field replaceable modules, expansion slots, and a USB port further future-proof the MX850 and allow the addition of contactless and smart card payment or other capabilities as new technologies emerge.
Mx 850 Accessories:
MX8XX Contactless Module GEN 3 (P090-913-01-R)
Verifone Mx 850 Blue Cable (23741-02-R)
Verifone Mx 850 Green Cable (23740-02-R)
Verifone Power Supply Mx 830 / Mx 850/ Mx 860 (CPS11212D-1B-R)
Multiport Y-cable (Ethernet + power) for MX8xx series (26928-02-R)
2" Swivel Stand, for MX8xx (225-7580-04)
Low Profile Swivel Stand for the MX8xx series (225-7581-04)
Specifications:
Processor
32-bit 200 MHz
Operating system
Embedded Linux with Verifone
security enhancements; MX platform
 
Applications
Form Agent, IBM EFT, NCR EFT
 
Memory
32 MB SDRAM + 32 MB Flash
Field upgradeable via USB Flash memory drives
 
Display
16-shade grayscale, backlit, ¼ VGA resolution
 
Graphics
Built-in animation capability
 
Audio
Multi-tone buzzer
 
Keypad
Recessed for privacy
13 laser-etched tactile keys +
4 screen-addressable ATM-style keys

Touch Screen
Chemically-hardened glass
Capacitive technology
Factory option

Signature Capture
Field upgradeable option (with touch screen)

Stylus Pen
Non-mechanical
Field upgradeable option

Magnetic Card Reader
Triple-track, bi-directional
Software-controllable LED prompt

Smart Card Reader
None

Contactless
ISO 14443 AB certified
Optional, field upgradeable module

Connectivity / Communications
Cable: supports Verifone multiport cables with cable sensing
USB: Device and Host capability
Ethernet: 10/100BaseT (factory option)
Serial Interfaces: RS-232, RS-485,
IBM Tailgate

Security / Encryption
Master Session
DUKPT
Triple DES
Free Shipping on orders $500 and up!
1 Year Manufacturer Warranty
15 Day Money Back Guarantee