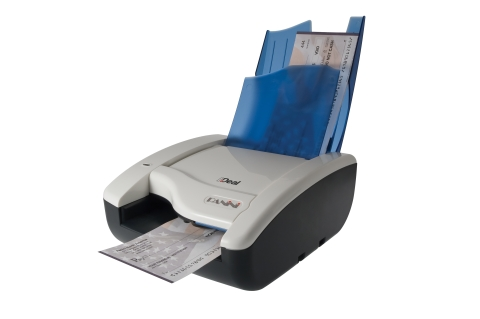 Panini I - Deal Single Feed Check Scanner without a Franker (ID-1)
The Panini I:Deal is a breakthrough product that provides a compelling check capture solution designed specifically for the needs of small business users of remote deposit capture (RDC), featuring affordable cost of ownership combined with best total quality, and consistent with the industry-leading performance and reliability customers expect from Panini.
Technical Specs
Horizontal single document feed with auto-alignment mechanism for easy use providing the natural experience of a self-service device.
Advanced MICRPlus magnetic reading including OCR correction bundled with API for optimal MICR read accuracy.
Grayscale and bitonal duplex imaging in multiple resolution settings (100, 200, or 300 dpi).
Optional OCR decoding, Barcodes decoding, IQA library.
Optional intelligent front side franking capability, based on MICR read and/or image contents.
Virtual endorsement via Vision API software library.
10-document sequential stacking pocket; document may also be returned to feeder via API command acting as a reject pocket.
USB 2.0 connectivity with Microsoft WHQL certification for device recognition and simplified implementation.

Unified API (Vision API), in common with other Panini platforms.
Free Shipping on orders $500 and up!
1 Year Manufacturer Warranty
15 Day Money Back Guarantee