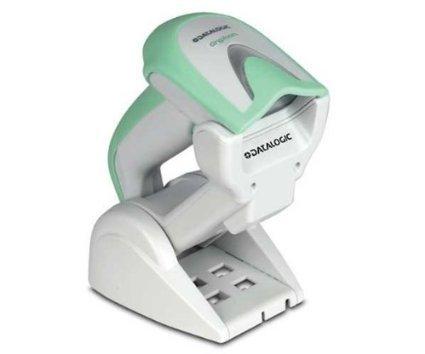 Datalogic Gryphon GM4400-HC Handheld Barcode Scanner GM4411-HCK10-BPOC
Gryphon Gm4400, Bpoc Kit, Usb, 910 Mhz (Kit Includes Scanner, Bc4011 Base, Cable 90A052065) The Gryphon™ Series From Datalogic Adc Represents The Premium Level Of Data Collection Equipment For General Purpose Applications. The Gryphon™ Gm4400 2D Scanner Blends The Most Advanced Reading Technology And The Best Suitable Radio Technology With A Unique Set Of Features To Allow Operators Maximum Efficiency And Ease Of Use. Featuring Narrow Band Radio Communications With Datalogic'S Star Cordless System™, The Gryphon Gm4400 Reader Provides Increased Productivity And Flexibility In The Workplace. The Gm4400 Reader Series Offer Scalable Solutions From Simple Point-To-Point Applications To Point-To-Multipoint Installations With Up To 16 Readers Connected To The Same Base Station. The Gm4400 Readers 'Batch Mode' Capability Allows Thousands Of Codes To Be Stored In Its' Memory. This Feature, Combined With A Long-Lasting 60,000 Scans-Per-Charge Lithium-Ion Battery Allows Uninterrupted Scanning With Unlimited Mobility. Lightweight And Comfortable To Use, The Steady, Dim, Deep Red Illumination Light Is Much Easier On The Eyes Than Other Similar Products With Flicker Illumination. The Highly Visible 4-Dot Aimer Clearly Defines The Reading Zone And The Center Cross Provides A Locator For Targeting When Scanning A Product With Multiple Bar Codes. The Gryphon Gm4400 2D Reader Is Designed With Datalogic'S Motionix™ Motion-Sensing Technology, Which Enables The Scanner To Intuitively Switch Into Handheld Mode, Activating The Illumination And Aiming Systems When The Device Is Picked Up. The Two-Position Base Station Provides The Flexibility To Use The Scanner In Presentation Or Stand Mode While It Is Charging. The Scanner Reads Common Codes Including 1D, 2D And Postal Codes Plus Stacked And Composite Codes Like Pdf417 And Gs1 Databar™. It Also Offers Outstanding Performance When Reading Bar Codes From Cell Phones Or Mobile Devices For Mobile Marketing Or Ticketing Applications.
Datalogic STAR Cordless System™ with up to 30 m / 98 ft range
Radio frequencies available in 433 MHz or 910 MHz
Point-to-point and multi-point transmission
Datalogic's patented 'Green Spot' for good-read feedback plus the 4-dot Aimer
Two-position cradle with Scan-While-Charging capability
Optional Counterfeit Detection
USB Certified Kits Available
Free Shipping on orders $500 and up!
1 Year Manufacturer Warranty
15 Day Money Back Guarantee