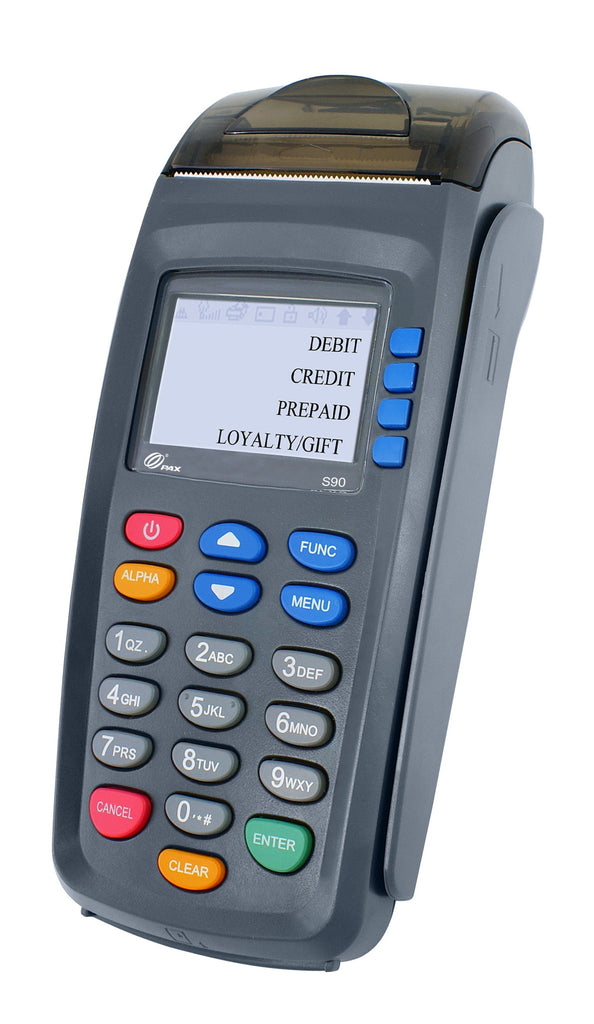 PAX S90 gprs 3G with EMV and Contactless (S90-MW0-063-01EA)
PAX's S90 is an advanced countertop POS terminal which combines innovation and high performance to assure, faster, more reliable transactions.
The PCI PTS 2.1 approved S90 offers advanced connectivity, equipped with various communication technologies. An intuitive ATM-style interface and ergonomic keypad make operation easier for merchant and consumer alike. The S90 can support multiple payment and value-added applications, making this one of the most reliable and advanced devices in the market.
Processor 32-bit ARM11
Memory 192MB (128MB Flash, 64MB SDRAM)
Display
128 x 64 pixel LCD, White backlit
Keypad 10 numeric / letter ; 8 function keys 4 ATM keys, 1 Power ON / OFF key
Printer
Thermal printer, Speed: 25 lps Standard paper roll: 58mm (2.25 in.)
Magnetic Card Reader
Track 1 / 2 / 3, bi-directional, ISO7812
Smart Card Reader
1 user card, EMV
Contactless Card Reader (built-in)
Card Slots
3 SAMs, ISO7816 Communication
Modem: Sync. (HDLC up to 9600bps); Asnyc. (V.92, up to 56kbps) Ethernet (optional)
Peripheral Ports
1 x PINPad, 1 x RS232, 1 x Ethernet, 1 x Line, 1 xmini USB (OTG)
Security
PCI PTS 3.x approved DUKPT, Master / Session, DES, 3DES ANSI / ISO9564 format 0,1,3 PIN ciphered key algorithm ANSI X 9.9 / X 9.19 MAC algorithm
Voltage
Input: 100~240VAC,50Hz / 60Hz, 1.5A Output: 8.2VDC, 3A
Physical
Length: 216mm (8.5 in.) Width: 95mm (3.74 in.) Height: 86 mm (3.390 in.)
Weight
525g
Free Shipping on orders $500 and up!
1 Year Manufacturer Warranty
15 Day Money Back Guarantee