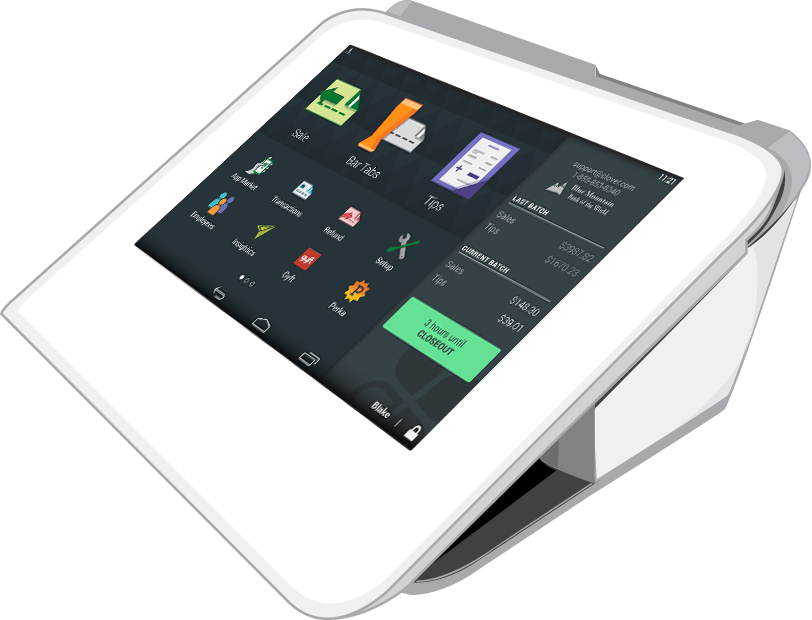 Clover Mini WIFI & 3G (CALL FOR PRICING)
Benefits for Business
Clover Mini is small, powerful and looks good too. It accepts virtually all payment types and has the ability to scale up to full point-of-sale (POS) functionality. And as you grow, it can too with specialized apps from the Clover App Market.
Accept more payment types.
Take all kinds of payments, from magnetic stripe, EMV® chip, standard credit and debit cards to contactless payments, without additional equipment or software.
Simplify your business.
Clover Mini gives you everything you need to make running your business far less complicated and a lot more fun.
Safeguard your hard work.
Help keep your and your customers' information safe with built-in fraud protection from the TransArmor Solution.
Increase customer loyalty.
Set up a digital loyalty and rewards program to attract new business and keep customers coming back for more.
Turn data into information.
Tap into valuable insights about your customers, what they buy and your business so you can grow your business faster.
Access anywhere, anytime.
Run your business on cloud-based software so you can access your information from any device.
Product Specifications
Clover Mobile
Materials
Body: Brushed aluminum with white glass accents
Display: Antimicrobial Corning® Gorilla® Glass
Liquid silicone rubber provides additional product protection for improved impact (drop) performance
Internet Connectivity
Clover Mobile 3G
Wi-Fi (802.11a/b/g/n wireless)
3G (Pentaband HSPA+): requires data plan — bring your own or use the one provided by Clover.
Power Source
Built-in 18.7-watt-hour rechargeable lithium-ion battery.
Clover Mobile is estimated to fully charge in less than 4.5 hours via Clover USB wall charger or with Clover Mobile Dock.
Payments
EMV chip card reader
NFC reader (EMV compliant)
3-Track Magstripe reader
Free Shipping on orders $500 and up!
1 Year Manufacturer Warranty
15 Day Money Back Guarantee