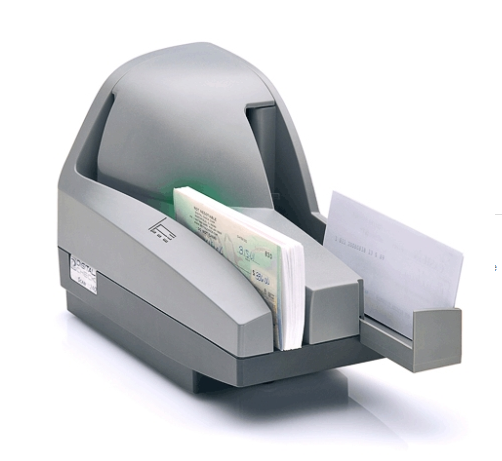 TellerScan 240 Scanner ( 75 DPM TS240-75 ) (153000-01)-Digital Check
The TellerScan 240 TS240-75 is the 5th generation batch fed scanner from Digital Check. Built on the successful legacy of the TS230 line of scanners, the TS240 incorporates the features for which banks are looking in a check scanner: fast to deploy, easy to install, easy to support, and a fool proof design. This new generation of scanner features advanced 75 dpi non-contact cameras that improve CAR/LAR rates and reduce the number of rescans -- even checks with folds and wrinkles will read more accurately. Supporting the new scanner is our latest API which incorporates automatic image rotation and scanner diagnostics. Scanner diagnostics quickly determine the cause of most user problems and assists the user in correcting the problem.
The new styling on the device is not only beautiful, but it is also functional. The TS240 incorporates a new cover design that helps process damaged checks more effectively and also reduces noise level, resulting in quieter operation. The TS240 is built with a 100 sheet feeder for greater wall clock performance. The TS240 comes ready to use out of the box, requiring no assembly.
Free Shipping on orders $500 and up!
1 Year Manufacturer Warranty
15 Day Money Back Guarantee